SWINGING INTO ACTION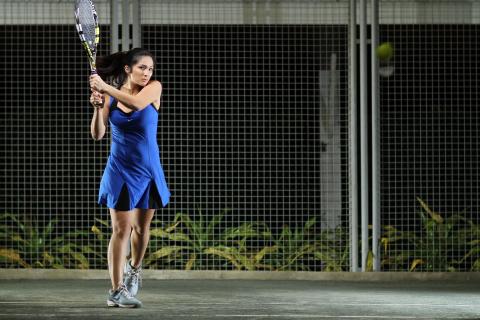 Christine Patrimonio for the Village Sports Club
"What makes me different from other players is that I never give up on the court. Even when I'm injured or cramping up. I still fight until the last point." That's Christine Patrimonio, 24-year old tennis superstar who's steadily making a name for herself in the international clay court circuit. Without a doubt, her kind of dedication and drive is what the Village Sports Club looks for in a Brand Ambassador.
So as the Village Sports Club in the South continues its campaign to be the athlete's haven for serious sports, it was an absolute thrill to have Christine along for the journey. "I chose the Village Sports Club because it is the place where I can train hard and also relax and enjoy." she said, just as thrilled to be a part of the family.
And with two outdoor Tennis Courts in well-maintained green clay, this sports club is perfect for her. Christine passionately expressed, "I am training to become more fit. Tennis, besides being a mental game, is a very physical sport after all. The Village Sports Club understands this because they have all the materials I need to be a better tennis player."
The green clay the Club uses for its courts is called Har-Tru which is composed of crushed stone. This is what makes it such an effective tennis court surface. It is more durable and more consistent than its European Clay counterparts. That kind of professional attention, plus the overall Club ambience that inspires, focus make the combination for such an ideal training ground. These tennis courts are designed for Christine and her future goals.
"I think my biggest achievement in my sport is representing my country –when I joined the Fed Cup and the Sea Games in 2009. But my ultimate goal is to reach pro level around the world."
The Village Sports Club is more than pleased to help her get there.
In closing, the young, hardworking athlete adds, "Life is a sport. Play it. That means in life, sometimes you win, sometimes you lose. But you learn from your mistakes, and keep on playing your sport until you're the best."